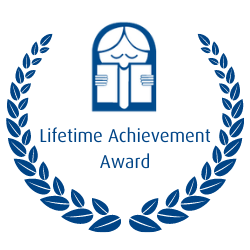 LifetimeAchievement Award
The CBCA Lifetime Achievement Award recognises a long-standing contribution by an Australian citizen to Australian children's books and a lifetime commitment to Australian readers.
---
Introducing CBCA's 2022 Lifetime Achievement Award Recipient

Congratulations Margaret Wild
Margaret is one of Australia's most highly respected picture-book writers whose award-winning children's books are loved by children all over the world. She has published over seventy picture books. Margaret creates picture books that explore diverse and universal themes, particularly issues of identity, trust, love, relationships, devotion and death in a manner that is respectful of children. She has also written Jinx and One Night, which are verse novels for older children and teenagers.
Career Highlights
In 1984, Margaret's first three books were published. They were There's a Sea in My Bedroom, Something Absolutely Enormous and One Shoe On. There's a Sea in my Bedroom brought instant recognition by being shortlisted for the 1985 CBCA Children's Book of the Year Award in the Picture Book category. It was also shortlisted in the 1985 United Kingdom Kate Greenaway Award, an international award judged solely by children's librarians for an outstanding book in terms of illustration for children and young people.
The Very Best of Friends, illustrated by Julie Vivas was published in 1989. It won the 1990 CBCA Picture Book of the Year Award.
In 1991 Let the Celebrations Begin was published. This story is an example of an uplifting text about children in a concentration camp, demonstrating Margaret's ability to treat controversial topics with great sensitivity. It was shortlisted for the CBCA Picture Book of the Year Awards in 1992.
Her books are published around the world and have won numerous awards such as the Deutscher Jugendliteraturpreis in 2004 for Fox.
In 2008 Margaret received the Nan Chauncy Award. This award is presented to authors who have made major contributions to Australia's children's literature.
The CBCA NSW Lady Cutler Award was presented to Margaret in 2011 for her contributions to Australian children's literature. This award commemorates the contribution to the Children's Book Council of Australia NSW Branch by former patron, Lady Helen Cutler, and is presented for Distinguished Service in the field of Australian Children's Literature.
Her book Woolvs in the Sitee won the Aurealis Award for Best Children's Fiction in 2006 and Vampyre was shortlisted for this award in 2011.
Jenny Angel, Fox, and The Very Best of Friends, have all been winners of the CBCA Picture Book of the Year Award, while Lucy Goosey, Chatterbox, Woolvs in the Citee, Goodbye House, Hello House, The Stone Lion, The Dream of the Thylacine and Little Humpty, have been named Honour books in either Picture Book or Early Childhood categories.
A number of her books are part of the Australian Curriculum, including The Treasure Box, Fox, The Very Best of Friends, The Dream of the Thylacine, Vampyre, The Feather and Goodbye House, Hello House.
Margaret has had two titles shortlisted in the Prime Minister's Literary Awards: Harry and Hopper and The Feather.
Amongst her latest titles are On the Day You Were Born, The Sloth Who Came to Stay and Girl From the Sea.
In 2019 Margaret was nominated for the Astrid Lindgren Memorial Award. This is an international award that annually recognises one or more living people for their career contributions. Specifically they are 'authors, illustrators, oral storytellers and promoters of reading' whose 'work is of the highest quality, and in the spirit of Astrid Lindgren'.
Margaret Wild was nominated by IBBY (International Board on Books for Young People) Australia as one of the Australian candidates for the 2022 Hans Christian Andersen Awards.
Margaret's commitment to creating quality children's literature has not diminished and we all look forward to seeing more of her amazing work.
As recipient of the 2022 CBCA Lifetime Achievement Award. she unreservedly deserves this honour, in recognition of her long-standing contribution to Australian children's books and a lifetime commitment to Australian readers.
---
2019 Lifetime Achievement Award Recipient
Paul Jennings AM
Australian children, and indeed children around the world, have been turned on to reading by writers of humour. Paul Jennings has made an important and significant contribution to the success of Australian books for children.
Read more
2016 Lifetime Achievement Award Recipient
Robert Ingpen
Robert Ingpen's widely acclaimed books and diverse artistic endeavours and achievements have created a lasting legacy for Australian readers.
Read more