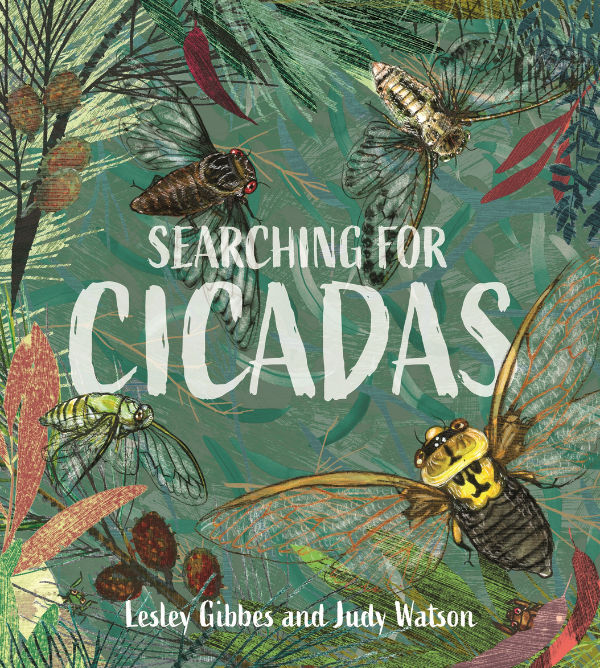 Author: Lesley Gibbes
Illustrator: Judy Watson
Publisher: Walker Books Australia
ISBN: 9781922244420
The publisher says...
This lovely story about a child and their grandfather searching for cicadas is part of the award-winning narrative nonfiction Nature Storybooks series. In the summertime, Grandpa and I go cicada-watching. We put our camping gear into my wagon and walk down to the local reserve. Last year we saw five Green Grocers, three Yellow Mondays and one Floury Baker. Can we find the rare Black Prince this year? This heartwarming nonfiction picture book is written by award-winning author Lesley Gibbes and gorgeously illustrated by Judy Watson.
The author says...
Tell us what inspired you to write your shortlisted book?
Searching For Cicadas was inspired by the childhood memory of my grandmother's garden in summertime. My family and I would visit and have the loveliest afternoon teas under the big jacaranda tree in her backyard. My grandmother would smile and say she had nothing to eat then, like magic, she'd appear with freshly baked scones, sponge cake with jam, cheese and biscuits and a big pot of tea. Her afternoon teas were wonderful!
The thing I enjoyed most about those lazy summertime afternoons were the cicadas. Fat Green Grocers, bright Yellow Mondays, noisy Double Drummers and the rare Black Prince would buzz and whizz around us as we ate. My father and grandmother would tell me all about them and their secret life underground. It was fascinating!
My research for the book was a combination of facts and fiction. There was a lot of factual research about cicadas to be done but the research that inspired me the most was reading about other people's childhood memories of cicadas. Everyone seemed to have one. The most common memory was collecting and playing with the alien looking cicada casings left clinging to trees.
One of my favourite researched memories was from the 1940s where a group of mischievous children spent the morning collecting cicadas and stashing them in hessian sacks. The children boarded a tramcar full of city workers then, just as the tramcar passed under a bridge and darkened, opened their sacks and let the noisy cicadas fly. You can imagine the chaos! I can still hear the screams and the laughter.
Another memory came from a family in America who took their boys searching for cicada nymphs with torches at dusk in their front yard. The boys would collect the nymphs and put them in jars with a stick. During the night, as the boys slept, the nymphs would split their casings and emerge as adult cicadas. The children would wake to discover what cicadas had hatched overnight, then they would take them outside to release them. I was fascinated by the fact that these boys searched for the nymphs and not the adult cicadas. This idea features in my text.
Searching For Cicadas is a book that people are quite nostalgic about. It brings a longing and a yearning for our own childhood. Many adults have bought the book to enjoy secretly themselves, others have enjoyed the pleasure of sharing it with the little ones in their lives.
For me it's a slice of my childhood and a precious memory I love to enjoy.
Click on the icon below for a video of Lesley Gibbes reading from Searching for Cicadas.

Click on the icon below for a video of Lesley Gibbes talking about her favourite CBCA Book Week memories.

The illustrator says...
Click on the image below to find out how artist and illustrator Judy Watson created the end papers for Searching for Cicadas, and for a leaf litter end papers project.

The CBCA judges say...
A beautifully presented introduction into the world of the cicada, this stunning picture book engages and informs young readers through its unique melding of fact and storytelling. The story itself is a simple one; a child and a grandparent explore the bush together, marvelling at the wonders of nature whilst listening for cicada calls and conducting their careful search. In addition to the narrative, each page contains a myriad of interesting facts about the cicada, presented in handwritten passages that mimic those of a naturalist's notebook. Key information about different species, their lifecycles, calls and colours are intertwined with the gentle storyline. Rhythmic prose immerses readers in the topic with skill and subtlety and the fun of camping and spending time with loved ones is captured in the joyous illustrations. Vibrant artwork in deep, rich hues of greens and blues evoke the Australian bush, and the cicadas themselves are brought to life in stunning detail. As both an exploration of science and nature, and a celebration of the bond between grandparent and grandchild, this is an information book to be shared and treasured.
Our Reading Time reviewers say...

Click here to read the Reading Time review
Teaching Notes for the book…
The publisher has generously made teaching resources available for this book. Click on the icon below to view these resources.