Cooee Mittigar: A Story on Darug Songlines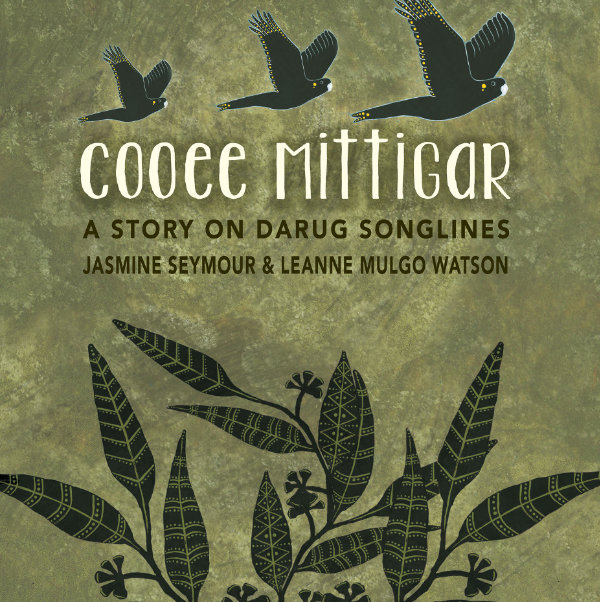 Illustrator: Leanne Mulgo Watson
Author: Jasmine Seymour
Publisher: Magabala Books
ISBN: 9781925936865
The publisher says...
Cooee Mittigar, meaning Come Here Friend, is an invitation to yana (walk), on Darug Country. In this stunning picture book, Darug creators Jasmine Seymour and Leanne Mulgo Watson tell a story on Darug Songlines, introducing children and adults-alike to Darug Nura (Country) and language. Greeted by Mulgo, the black swan, readers are welcomed to Nura. Journeying through the seasons, Mulgo describes the land, skyscape, birds, animals and totems. It is a gentle guide to how Darug people read the seasons, knowing when it is time to hunt and time to rest. It is also an appeal to remember, offering new ways of seeing and reading the lands of the surrounding Sydney region. With Darug language interspersed with English and an extensive glossary throughout, Cooee Mittigar presents an important tool for learning, told as a tender story with exquisite illustrations. It is Jasmine and Leanne's wish that with this book, everyone will know that the Darug mob are still here and still strong.
The illustrator says...
I would like to say that I have loved publishing our book, being a Darug language book is really important to me and I also know how proud my Mum is as she had the language taken from her. I have been really happy and surprised at the response, support and excitement surrounding our book. I am just really excited that our book could be short listed to receive an award, this is a huge achievement for Darug People.
The author says...
Cooee Mittigar is a call for everyone to remember that Sydney always was and always will be an Aboriginal place. This book is enormously important to me. Every step taken on Darug Country is part of a song that is embedded in the Aboriginal geography of this place. Leanne Watson's beautiful illustrations empower the words with deep time meaning, and an emphatic understanding of place. Darug Country is where we have both grown up and to whom we belong. Thank you for loving it and seeing it as we see it: alive, vibrant, still strong.
The CBCA judges say...
Songlines of Darug Country are explored through beautiful prose and stunning artwork. This unique picture book takes readers through the seasonal calendar, incorporating the animals and weather that appear at different times of the year. The reader's experience begins with the sophisticated drawings on a textured cover. The edge-to-edge illustrations throughout the book draw readers into a whole experience, enhanced by warm, earthy tones presented in overlays of artwork that creates a strong sense of place and the wonders of nature. The effect of the artwork is intriguing and engaging. The illustrator used acrylic paint and digitally composed mixed media to create this effect. The encapsulating tone of this book elicits an enriching experience, best pondered slowly, as readers take in the artwork, the languages and the ambience that is created. The combination of all these aspects and the exquisite colour palettes will have all readers entranced.
Our Reading Time reviewers say...

Click here to read the Reading Time review
Teaching Notes for the book…
The publisher has generously made teaching resources available for this book. Click on the icon below to view these resources.