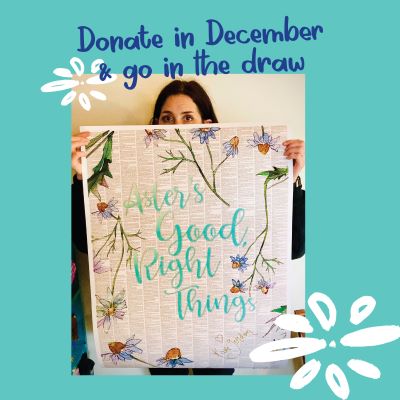 Donate to the CBCA Awards Foundation in
December
2021 and go into the draw to win this unique signed poster donated by Riveted Press and signed by Kate Gordon, winner of the 2021 CBCA Book of the Year for Younger Readers for 'Aster's Good, Right Things'. It has the full story!
With your donation, marking the end of our very special 75th CBCA Book of the Year Awards, you will support authors and illustrators who create stories for our young Australian readers.
The CBCA Awards Foundation raises money to fund prizes for the CBCA Book of the Year Awards, in perpetuity.
Donations to the CBCA Awards Foundation $2 and over are tax deductible. We acknowledge Benefactors ($20,000 & over) & Major Donors ($5,000 & over).
To read more about us and to donate to the CBCA Awards Foundation, please visit our website:
https://cbca.org.au/awards-foundation
To donate now, please click HERE
* * * * *
View all news items