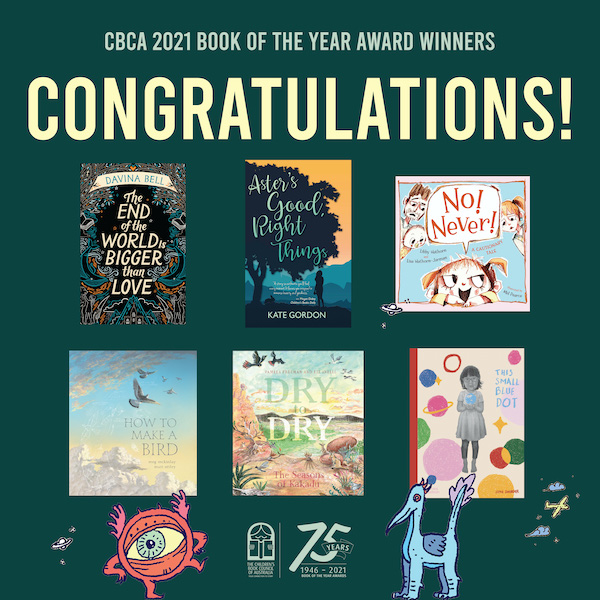 TWIN sisters build a post-apocalyptic sanctuary on a tiny island in this year's spine-tingling Children's Book Council of Australia (CBCA) Book of the Year for Older Readers.
The End of the World is Bigger than Love by Davina Bell weaves together dreams with a fearsome reality, taking its place on an awards list which has celebrated excellence in Australian children's literature for 75 years.
CBCA Chair Wendy Rapee said August 20 is the 75th birthday of the CBCA Book of the Year Awards.
"First awarded in 1946, today the Book of the Year Award celebrates writers and illustrators who are part of a mature children's publishing community in Australia," Ms Rapee said.
"You might say this 75th birthday is a diamond jubilee of sorts, and I am reminded of the brilliance and lustre of a diamond when I think how a carefully constructed story can light up the mind of a child.
"Our children's imaginations, their wellbeing, their knowledge of the world around them, and their connections to each other have flourished because of these stories."
In 1946 only one Book of the Year was awarded, however additional categories have been added over the years to encourage excellence across a range of ages and genres.
The 2021 Book of the Year for Younger Readers is Aster's Good, Right Things by Kate Gordon. Aster is an anxious young girl who feels her mother has deserted her because she isn't good enough. The CBCA judges described the story of Aster's journey to greater self-worth as pitch-perfect with gentle humour and a sophisticated plot.
Mother and daughter writing team Libby Hathorn and Lisa Hathorn-Jarman created a rhyming cautionary tale in the Book of the Year for Early Childhood, No! Never! Illustrated by Mel Pearce, the book is eminently age appropriate and delightful to read aloud for both adults and children, according to the CBCA judges.
The Picture Book of the Year, How to Make a Bird, written by Meg McKinlay and illustrated by Matt Ottley, is a paean to creativity. A story based on the wonder of migratory birds, CBCA judges described it as a detailed, delicate and gently philosophical story.
The Eve Pownall Award for non-fiction was awarded to Dry to Dry: The Seasons of Kakadu, written by Pamela Freeman and illustrated by Liz Anelli. The engaging text and illustrations transport readers to Kakadu National Park as the seasons come and go.
Zeno Sworder was awarded CBCA Award for New Illustrator for This Small Blue Dot, the story of a young girl welcoming a new sibling into the world. The judges said Mr Sworder used an array of mixed-media messages to illustrate concepts around life, ecology and sustainability for child readers.
The CBCA is a not-for-profit, volunteer-run organisation whose mission is to promote and advocate for the sharing of quality literature for young people across Australia. It showcases Australian creators and collaborates widely to foster a love of reading.
Established in 1946, the CBCA Book of the Year Awards have become the most influential and highly respected in Australia. The awards are presented in six categories: Older Readers, Younger Readers, Early Childhood, Picture Book, Eve Pownall and New Illustrator.
Following the Book of the Year Award announcements, CBCA Book Week runs from 21-27 August. In 2021 the theme is Old Worlds, New Worlds, Other Worlds.
For the full list of CBCA Book of the Year 2021 Award and Honour books, please visit the CBCA website HERE
To watch the 2021 Book of the Year Awards announcement film, visit our YouTube channel HERE
* * * * *
View all news items