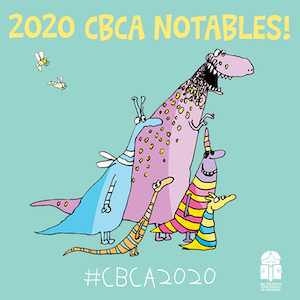 A record number of entries has again confirmed the strength of children's books in Australia as the Children's Book Council of Australia (CBCA) announces its Book of the Year Awards Notables List.
CBCA National Chair Professor Margot Hillel OAM said the 2020 Notables List was drawn from 517 entries and is "arguably the most diverse award longlist in Australia".
"Our Notable books are set in small towns and big cities in Australia and overseas. They take us from the ocean to the bush, telling stories of Indigenous, immigrant, disabled, LGBTQI+ and elderly characters. Many were created by 'own voice' writers and illustrators."
"There are genre books that break the rules, such as fantasy crossed with science fiction, history and mystery. Romance that isn't just for girls. Sports books that aren't really sports books."
The 2020 Notables include favourite children's authors Emily Rodda, Jackie French and Paul Jennings as well as Tim Flannery, the acclaimed scientific writer and conservationist making his first foray into writing for young people.
"We have experienced authors who continue to invent and evolve, such as Garth Nix, Sean Williams, Sally Morgan, Will Kostakis, Robert Newton and Vikki Wakefield. And there are strong debuts from new writers," Professor Hillel said.
"The Eve Pownall Award for non-fiction is particularly fascinating this year, with an amazing autobiography by the late Indigenous leader, Kunmanara Williams, written in both Pitjantjatjara and English."
Other Notable books in this year's Eve Pownall Award category explain the underpinning concepts in geology (Australian Backyard Earth Scientist), astrophysics (Under the Stars: Astrophysics for Bedtime) and ecology (Beauty) through plain English, ingenious illustrations and story-telling.
The 2019 CBCA Book of the Year Award received 488 individual book entries, a record surpassed by this year's 517. This growth in entries matches the continuing strength of Australia's children's book industry. While Australian book sales revenue fell 3.1 per cent in 2019, children's books grew by 3 per cent and topped the bestseller lists at Christmas*.
The CBCA is a not-for-profit, volunteer-run organisation which aims to engage the community with literature for young Australians.
Regarded as Australia's most prestigious children's literature award, the CBCA Book of the Year was established in 1946 and is now presented in six categories: Older Readers, Younger Readers, Early Childhood, Picture Book, Eve Pownall Award and CBCA Award for New Illustrator.
Full list of 2020 CBCA Notable books.
*Sources: Books + Publishing: "How did international book markets perform in 2019" 19 February 2020; "Pre-Christmas bestsellers: children's book sales not enough to counter weak adult fiction and nonfiction sales" 22 January 2020. Sydney Morning Herald: "I'm hoping it's a blip" 10 January 2020.
* * * * *
View all news items