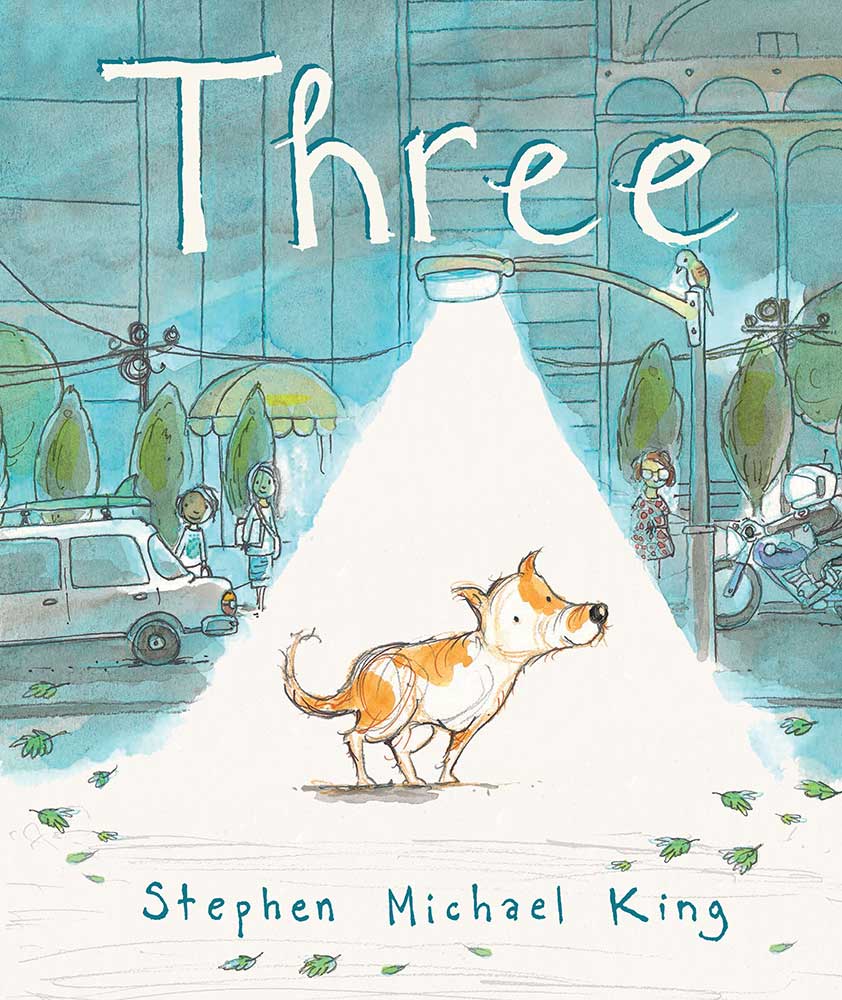 Author/Illustrator: Stephen Michael King
Publisher: Scholastic Australia
ISBN: 9781760664053
The publisher says...
One, two, three...Every day was a hop and a skip for Three. He was happy to walk from here to there, wherever his nose led, or wherever his legs took him...all the way to new friends.
The author/illustrator says...
Once, when I was at the snow, a three legged dog introduced himself to me and he wouldn't leave. I thought he was an amazing character and I tried every year for twenty years to write a good first draft of what was to eventually become Three. When my other main character, a one legged lady, changed to a girl with two legs...I'd got it. Instead of my idea being about finding the familiar, my story became one of understanding, acceptance, empathy, being thankful and following your own path.
Three doesn't have a giant (big explosions & scary monsters) narrative arch because most dogs in real life don't. They may face danger and there are things that they need, but mostly dogs adapt to their conditions while continuously wagging their tails.
After I'd written Three, I realised that at its core the story was about my older brother David – who was born with Polands Syndrome. I dedicated the story to him. You'll see a photo of us on the back of my Uncle's tractor. In the photo you can see that his right hand and arm are smaller. He learnt to do lots of things with his other hand even though he was naturally right handed. My brother and I were always making stuff together. He's always happy and not much ever gets him down. Love him!
From the author's website
The author talks about writing Three...
Click on the icon below for a video of Stephen Michael King talking about Three.

The CBCA judges say...
This is a delight of a book that celebrates difference by accepting it as a fact of life. A three-legged dog sets out on his journey to discover what might lie ahead. Whether it is love or a home is incidental to the gratitude experienced and explored by the small traveller. His trip, from the city to the country is shown through many viewpoints, wonderful red dots showing the way he has come and the direction in which he is going revealed as the page is turned. On the way many animals are encountered and many legs are checked as positive or negative additions. The text is economical and precise with the illustrative work either reflecting the words or explaining them. The watercolour, pencil and ink artwork remain clear and bright with the ending almost exploding off the page in a riot of shapes and colours and deliciously exhilarating moments. Each page is full of details to explore with backgrounds full of explanation about the site of the journey and the tone of the place — busy borders for the city and wide, open colour planes for the country.
Our Reading Time reviewers say...

Click here to read the Reading Time review