The Good Son: A Story from the First World War, Told in Miniature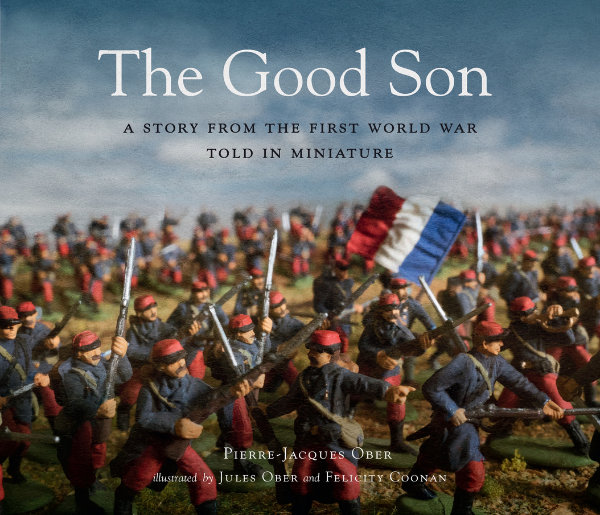 Illustrators: Jules Ober & Felicity Coonan
Author: Pierre-Jacques Ober
Publisher: Walker Books Australia
ISBN: 9781536204827
The publisher says...
It is Christmastime, 1914, and World War I rages. A young French soldier named Pierre had quietly left his regiment to visit his family for two days, and when he returned, he was imprisoned. Now he faces execution for desertion, and as he waits in isolation, he meditates on big questions: the nature of patriotism, the horrors of war, the joys of friendship, the love of family, and how even in times of danger, there is a whole world inside every one of us. And how sometimes that world is the only refuge. Its publication coinciding with the centennial of the signing of the Treaty of Versailles, this moving and sparely narrated story, based on true events, is reenacted in fascinating miniature scenes that convey the emotional complexity of the tale.
Meet Jules and Pierre-Jacques Ober
In this delightful studio tour Jules and Pierre-Jacques Ober share their inspiration and creative process for their unique picture book.

The photographer (Jules Ober) says...
I love to work with natural light and it was a great pleasure to tell this story that takes place across 24 hours (with several flashbacks) by respecting and reproducing the hours of the day at which the action takes place. By photographing these tiny figures (from 1:87 to 1:35 scale), you actually get to 'meet them'. To the naked eye, the details of their little faces are not really visible. When I photographed them, I discovered who they were and then worked to bring out their emotions by the angles I chose, sometimes tilting a tiny head, or emphasising the droop of shoulders. The models are often fairly rough, but by using light, texture, a little body language and minimal Photoshop, we were able to bring the characters to life.
The author & modeller (Pierre-Jacques Ober) says...
As a child I was lulled by bugle calls, by the music and songs of martial parades. I was surrounded by men in uniform, by army trucks, tanks and cannons. But what really fired my imagination were the stories told by my maternal grandfather, an equestrian master. He was a tough romantic who did not suffer fools. He was passionate about horses, wary of humans. He applied the motto found above the entrance to the riding arena to his life: Forward - Calm - Straight. He would bow to no one, but had no shame crying when evoking war, listening to certain music or reciting poetry. His stories were full of historical heroes, adventures, honor and bravery. I think I owe him my romantic soul and my absolute nature …
As I grew older it struck me that the same scenario seemed to unfold over and over again: a war is declared, the population are excited and confident, the armies march very proudly, wearing their spotless uniforms, following unfurled flags on the intoxicating sound of martial music. And then comes the terrible reality of war, trauma and then resignation and shut down. If they survive and go back home, they are unable and unwilling to talk about what they went through. And when the next war starts, another generation of men gets caught in the very same scenario, war after war. I wanted to tell such a story. May be with the hope that young readers might begin to understand that war is not the answer to the problems of the world.
I have always been drawn to do things that have not been done before. Telling a story with my collection of toy soldiers and with miniatures from the toyshop has not, as far as I know, been done before, so it was natural for me to want to do it.
The CBCA judges say...
This is an amazing book that deserves recognition if only for the comprehensive collage/photographed artwork. Describing the challenges of bringing life to stiff 'little plastic men' makes explicit the creative problem solving involved in recreating this broad-sweeping, universal WWI moral dilemma. The narrative itself, based on a true story, is powerful history, told in a restrained, yet evocative way. Identifying distinct points of tension, it describes grim irony so evident in the context of war, and the human quandaries that emerge from political expediency. Not a picture book narrative for younger readers, the detailed work put into the tiny miniature figurines is compelling viewing. The story is told through crowd scenes, snowy landscapes, isolated figures and maps. Both black and white and colour are used, as well as fire and flickering candlelight. Ober also uses cinematic techniques such as depth of field, out-of-focus shots and muted, shadowy interiors to create atmosphere and verisimilitude. Endpapers lovingly describe the process employed to create an exceptional piece of artwork.
Our Reading Time reviewers say...

Click here to read the Reading Time review
Teaching Notes for the book…
The creators have generously made teaching resources available for this book. Click here to view these resources.