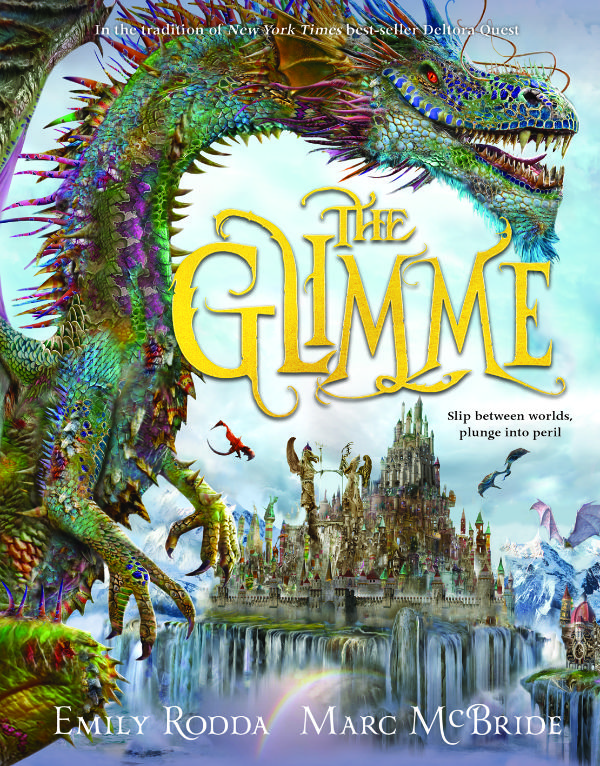 Author: Emily Rodda
Illustrator: Marc McBride
Publisher: Scholastic Australia
ISBN: 9781862919570
The publisher says...
'Lone Annie sees dragons in your future… She sees giants. She sees fire and water. She sees death.' Finn's life in the village of Witchant is hard. Only his drawings of the wild coastline, with its dragon-shaped clouds and headlands that look like giants, make him happy. Then the strange housekeeper from a mysterious clifftop mansion sees his talent and buys him for a handful of gold. Finn thinks the seven paintings she shows him are pure fantasy—such amazing scenes and creatures can't be real! He's wrong. Soon he is going to slip through the veil between worlds and plunge into the wonders and perils of The Glimme. From the creator of Deltora Quest and the illustrator of that world comes a new, spectacular fantasy adventure.
The author says...
Click on the icon below for a video of author Emily Rodda talking about how The Glimme came into being and treating us to a reading.

The illustrator says...
Click on the image below for a video of illustrator Marc McBride sharing some of the original illustrations he created for The Glimme.

The CBCA judges say...
Fantasy at its finest is found in this gripping read, where the spooky village of Wichaunt and The Glimme, a land of dragons 'beyond the veil' are vividly brought to life. Finn and Lori are brave and resourceful and learn to appreciate their family relationships. Teller is the complex, brave hero who nevertheless abandoned his son. The Housekeeper is a magical woman with an amazing secret. The villainous Bravo tricks them all with his subterfuge. Each phase of the quest is written to maximise suspense and excitement. Traditional themes of good versus evil, family relationships and letting your talent shine emerge effortlessly from the story. The relationship between the author and illustrator is obvious as the beautifully-written descriptive prose, with some verse interspersed, is complemented with vivid, appealing illustrations and the two build together to produce a magnificent text. The extent of the detail and the breathtaking beauty of the illustrations are definite stand outs. It is very unusual that the illustrations are produced before the written text and this has added to the novel's appeal.
Our Reading Time reviewers say...

Click here to read the Reading Time review