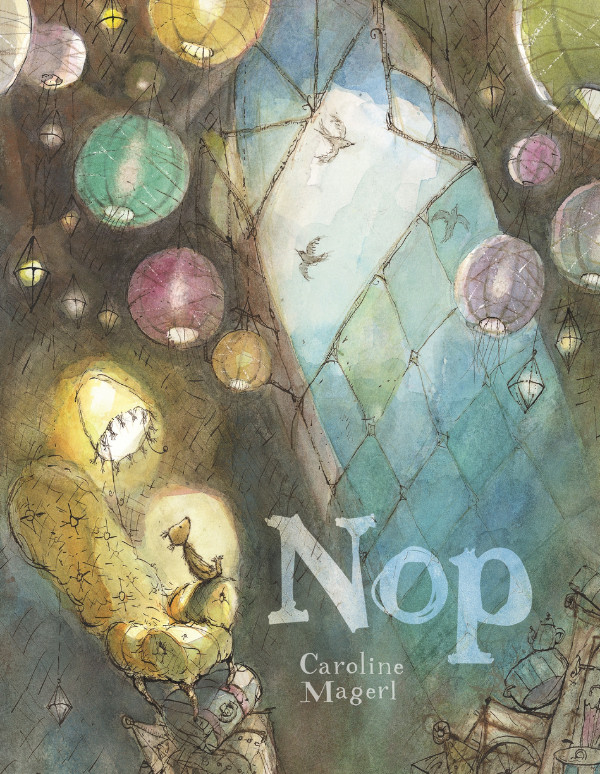 Author/Illustrator: Caroline Magerl
Publisher: Walker Books Australia
ISBN: 9781760651251
The publisher says...
Nop is a scruffy kind of bear. He sits on a dusty armchair in Oddmint's Dumporeum surrounded by the beaders, knitters, patchers and stitchers who are much too busy to talk to him. So he watches the litter tumble until, armed with a new bow tie, he has an idea that will change his life forever. This story began with a memory of Caroline's school holidays in Sydney. Her father was welding a steel yacht in a boat yard and she wandered off...only to discover the local dump, a home for the things people throw out! Many years later, her daughter Jen made a teddy bear out of scraps for her father. It's a very sorry-looking, but endearing creature. Named Roadkill, ten years later it still sits on top of his desk.
The author/illustrator says
Click on the icon below for a video of Caroline Magerl painting Nop.

The CBCA judges say...
A bear who, having ended up in the Dumporeum is constantly overlooked, falls to his own resilience to start his own journey to find a place in the heart of someone who will love him. The themes, resilience and self-belief, are understated but ring out through the colours and line work on each page as Nop floats above the business and mayhem of the daily Dumporeum to finally begin his own adventure. The cover is beautifully evocative, and it is a pleasure to turn the pages of high-quality paper which remind the reader just how special books are. This is a dream of a book with text and artwork perfectly matched to bring the right note of joy and melancholy to the reader. There is no time wasted on the sadness of an abandoned bear as his self-sufficiency shines through in the delightful illustrations and expression. So much is painted into a bear with button eyes and a nose and a wobbly little body. This is a compellingly, delicate picture book with a real feel for poetic, alliterative qualities of language.
Our Reading Time reviewers say...

Click here to read the Reading Time review
Teaching notes for the book...
The publisher has generously made teaching resources available for this book. Click on the icon below to view these resources.