Goodbye House, Hello House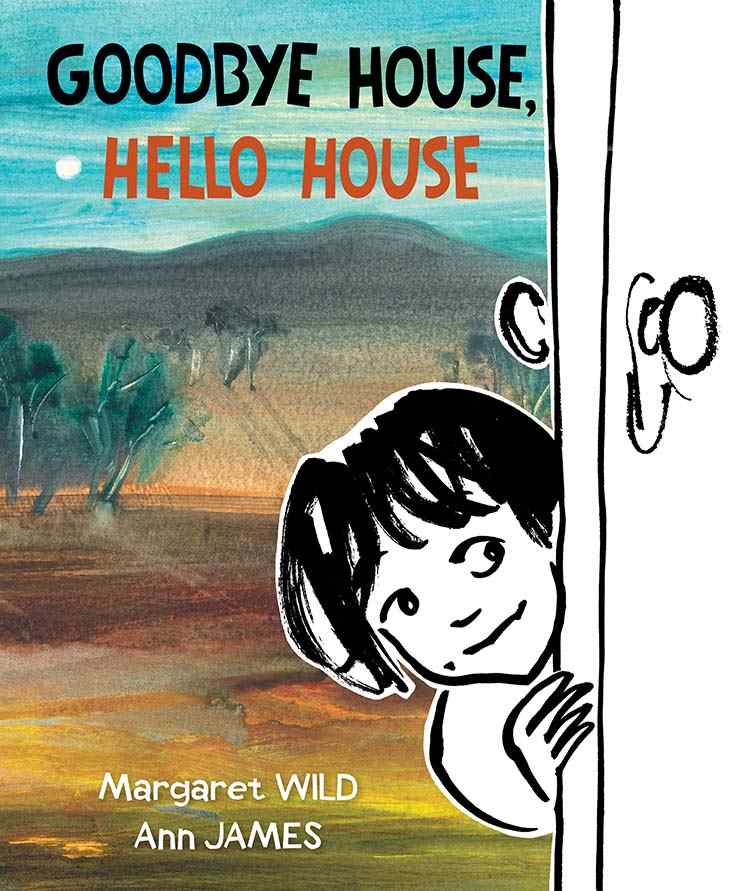 Author: Margaret Wild
Illustrator: Ann James
Publisher: Allen & Unwin
ISBN: 9781743311103
The publisher says...
A heartwarming story of letting go and starting anew, of moving from the country to the city, with a unique illustration style that allows room and space for the reader's imagination.
The illustrator says...
This text of Margaret Wild's was given to me a long time ago. I loved it from the start. As I had many projects ahead of me I kept it inside my head and ideas for the illustrations happened over a few years. I kept all my drawings and sketches along the way. Now and again I'd have a meeting with my editor and we'd get excited about how it was progressing – but so slowly. She and Margaret were very patient – and my enthusiasm and love for this story never waned. My ideas for the technique and media I would use changed over time. The story is written in the first person. I very much wanted the reader to hear Emma's voice and see through her eyes. This lead me to the way I chose to illustrate her story. Emma depicted in line looking through doors opening to colour-filled inside and outside views of her world.
The picture book texts I am attracted to leave lots of room for interpretation and must stir an emotional response from me. Margaret's words are very expressive and so carefully chosen. There's a lovely shape and rhythm to this story and a definite and intriguing passage of time. It's about an important time in a particular child's life. The visual memories of important times can trigger emotions all through your life – colours, textures, shapes, smells….
Initially the protagonist was a boy - Margaret suggested this in her early manuscript with the writing on the bedroom wall. I had a strong feeling that I'd like the child to be a girl, adventurous and self-motivated. Margaret was quite happy to oblige – so Jack became Emma! I had lots to discover and invent for Emma and her story and plenty of questions to ask and answer. As Emma is the only person mentioned in the text I wondered how old she was and, of course, what she looked like. The clues were there for me – fishing in rivers, swinging on gates, climbing trees, dreaming by fires, patting ponies and cats. And running through trees. Margaret's text does sometimes suggest time – but not season. And I wondered for a while who Emma's family were and if she might have a pet. I needed to create her country world and her city world. I like to be suggestive too – let the reader's imagination create part of the story too. My focus in the illustrations is on what Emma sees – so I've shown sections of a view and sometimes framed her view through doors and windows. Often, I have shown Emma from behind. I'm hoping the reader can tell how she's feeling through her body language. It's how I read people.
As I love drawing I've chosen to use line to express this rather than tone or colour. Her world though is painted so the reader can see what she sees. Emma seems very happy in her own company, self-motivated and playful. The move is an adventure and she's living every moment. I felt pretty sure she'd find a friend soon in her new place – maybe just over the fence next door – so I suggest this in her tree top view on the back endpaper.
The illustrations for Goodbye House, Hello House were rather a different way for me to work. I wanted the drawings and the painted backgrounds to be quite separate – Emma is drawn and what she is seeing is painted. My drawings of Emma were painted with a brush and black ink and the coloured backgrounds were painted with acrylic gouache. Acrylics are not transparent like watercolour and I painted many layers on top of one another, letting some colours peep through others.
I work quickly and like to see the brush strokes and textures that happen as I work. I might deliberately create splatters or other marks. Sometimes I scratch the paint off while it's still wet, or drag cardboard across to get an interesting effect (like the water in the 'fishing' picture). I painted lots of alternative backgrounds, especially for the landscapes. Later, when I cut out all my Emmas with scissors, I placed her on different backgrounds to see which worked best. I didn't actually glue my Emmas to her landscapes. Instead the final illustrations were put together in Photoshop where I combined the black and white drawings with the paintings digitally.
Ann James has also prepared a PDF describing her illustration journey for Goodbye House, Hello House including some behind the scenes photographs of her work.
The CBCA judges say...
The wonderful, inviting cover design depicts a child peeking out at readers from behind a door, with a vast, outdoor country landscape backdrop. The front endpapers continue this theme, showing a child looking out at the countryside, with stacks of boxes nearby. Concluding endpapers show the same child in a tree in what appears to be an urban scene, providing a satisfying resolution to this story of leaving one home to create another. The simple and concise text harmonises beautifully with the visually appealing illustrations. Using a combination of bold black and white line work for the foreground and coloured paint for the background the focus is placed on the main character, Emma. Subtle nuances of feelings are shown through Emma's stance and body language cleverly illustrating the range of emotions portraying not sadness but excitement and looking forward. Readers can see she is a little hesitant and sad about the move, but then they see her embracing her new home with curiosity and excitement, all cleverly shown through the illustrations. It makes a great discussion starter about what it is that makes a home. A gentle, bittersweet story of moving on, incorporating themes of change, family, and home, and is pitched perfectly for the early childhood audience.
Our Reading Time reviewers say...

Click here to read the Reading Time review