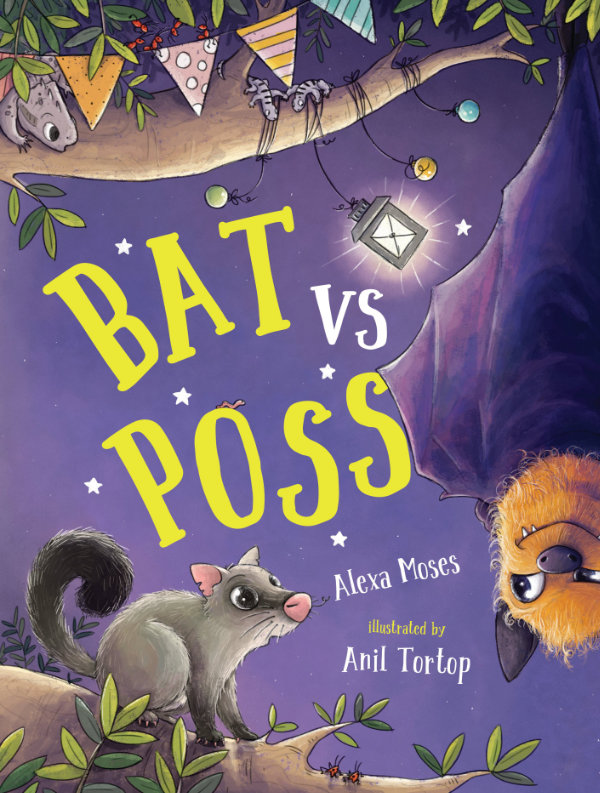 Author: Alexa Moses
Illustrator: Anil Tortop
Publisher: Hachette Australia
ISBN: 9780734418388
The publisher says...
Meek the possum and her sisters three are happy living in the sprawling paperbark tree - until the day Squabbles the bat moves in. A story about sharing and making friends. Meek lives with her three sisters, a gaggle of birds, lizards and other creatures next to a tumbledown terrace house. Everyone shares the space, and life is pretty sweet until the day a rude and messy fruit bat named Squabbles moves in - and demands everyone else move OUT. Will Meek be able to get rid of Squabbles, or is there a way for everyone to get along? Alexa Moses's lively rhyming text is entertaining to read aloud and Anil Tortop's illustrations are full of terrific detail and great characterisation. BAT VS POSS is a fun story about learning to share that kids aged 3 to 5 will want to read over and over.
The author says...
My favourite illustration shows Anil's marvellous ability to put a 'camera' in the right place and 'see' a story moment without words. The text I wrote goes…
Then Squabbles looked up and saw, with surprise,
the dozens of furious, glistening eyes -
lizards and possums, birds fluffy and trim,"
insects and reptiles, all glaring AT HIM!
This is a major turning-point in the book where the bossy fruit bat, Squabbles, is beaten by the actions of a group. Anil's taken this text and transformed it into something astonishing. She chose to draw this moment from above, with the animals glaring down at Squabbles so the reader feels as if they're up in the tree with the animal pack. The bully fruit-bat, who has always been so big and tough and has been drawn looming over the smaller animals, is reduced to a tiny, sad set of eyes and ears inside a garbage bin. You can see exactly what's going on and how Meek and Squabbles' situations have been reversed. That's masterful visual storytelling, right there.
My favourite stanza happens near the end of the book:
'But Meek, doesn't everyone get second chances?
The littlest poss piped up, drawing shamed glances.
Meek hugged her sister, then called through the air
'You're welcome to stay IF YOU'RE WILLING TO SHARE!'
This moment occurs after the selfish fruit-bat Squabbles has been defeated by Meek the possum and banished from her tree. Friendship, bullying and sharing are evergreen themes in children's books, but a theme that isn't often explored is mercy. Everyone does wrong by others sometimes. Shame and regret are feelings that most of us have experienced from a young age. It's important (although horribly hard) to know how to genuinely apologise, but it's just as important to know when to forgive someone else. Because mercy, as Shakespeare wrote, is twice blessed: 'It blesseth him that gives and him that takes.' Both Meek and Squabbles are lifted up when Meek gives the bat a chance to make amends.
The illustrator says...
Click on the icon below for a time-lapse video of Anil Tortop illustrating Bat Vs Poss.

The CBCA judges say...
Readers will be drawn in by the visually appealing cover showcasing the two main characters. The scene is set for confrontation as Bat moves in and tries to force the creatures who are happily sharing the tree to move out of their home. The engaging text maintains a rhythm with use of onomatopoeia. making this an ideal book to read aloud. Captivating illustrations (pencil, watercolour, ink and digital) add characterisation, complementing the text to create a delightful tale exploring familiar themes of friendship, teamwork, bullying, confrontation and sharing. Facial expressions show feelings, emotions and warmth, bringing the characters to life. The use of purple to depict the night leaves a magical/mystical feel creating bright scenes in the night-time setting. Endpapers showing a silhouette of the night-time skyline set the mood and tie in with the story's beginning and ending. Friendships formed as a result of standing up to a bully but also giving a second chance provide a satisfying resolution. Variations in page layout and font colour add interest and quirkiness to the overall story with illustrations and text blending to create an appealing, age appropriate story.
Our Reading Time reviewers say...

Click here to read the Reading Time review
Teaching Notes for the book…
The publisher has generously made teaching resources available for this book. Click on the icon below to view these resources.