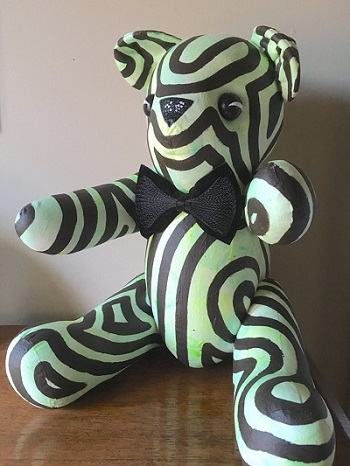 The CBCA Awards Foundation is holding a silent auction for 'Lionel', a one-of-a-kind illustrated bear created by Dub Leffler.
Dub received the 2019 CBCA Eve Pownall Award for Sorry Day, written by Coral Vass (published by NLA). He is one of thirteen children and grew up in the small town of Quirindi, south of Tamworth in New South Wales. Dub is descended from the Bigambul and Mandandanji people of south west Queensland. He began his visual arts career as an animator and has worked as a muralist and art teacher. He has collaborated with internationally recognised illustrators such as Colin Thompson, Shaun Tan and Banksy. Dub's first book was Once There Was a Boy (published by Magabala Books).
Lionel is illustrated in the Bigambul style of artwork. It will be a true collector's item. Illustrated Bears have been created by many of Australia's award-winning illustrators. Over twenty bears have been auctioned and raised funds for the CBCA Awards Foundation which funds the monetary prizes for the annual CBCA Book of the Year Awards.
To place a bid please email admin@cbca.org.au with the subject 'Auction'. Bids close on 22 November 2019. The reserve price is $350 and delivery will be charged to the successful bidder.
* * * * *
View all news items