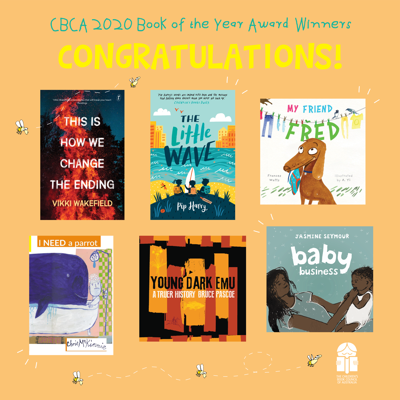 In a year which demonstrated how difficult the world can be, the Children's Book Council of Australia Book of the Year Awards have recognised thought-provoking and uplifting stories that allow young people to take on all challenges.
The 2020 CBCA Book of the Year Awards announced Friday 16 October were chosen from a record 517 entries across six categories.
CBCA National Chair, Emeritus Professor Margot Hillel OAM, said, 'Lockdowns and school closures have given many children and young people more time to read in 2020.
'Whether they are seeking solace and reassurance, or simply the escape of a gripping plot, well-told Australian stories are there for them,' Professor Hillel said.
'It has been another exceptional year for the CBCA Book of the Year Awards, with plenty of writing to entertain, touch the hearts of young readers and help them gain empathy and new perspectives.'
The CBCA Book of the Year: Younger Readers, The Little Wave by Pip Harry, which is expertly told in verse, revolves around three primary school children from the beach and outback. The support they find in each other delivers an emotional stability which helps them transcend grief, poverty and bullying.
The CBCA Book of the Year: Older Readers, This is How We Change the Ending by Vikki Wakefield, is a gritty story about a suburb in decline where the main character, Nate, learns to hide his intellect and emotions. His love for his younger brothers, stepmother, and even his abusive father, is a driving force that enables the powerless to become powerful.
The CBCA Book of the Year: Early Childhood was won by My Friend Fred, written by Frances Watts and illustrated by A. Yi. Animals often feature strongly in the early childhood category, and in this book they demonstrate just how different good friends can be. The CBCA judges said My Friend Fred is full of energy and movement and comes to a very satisfying surprise ending.
The CBCA Picture Book of the Year was won by I Need a Parrot, a witty book written and illustrated by Chris McKimmie. The CBCA judges said that with very few words and deceptively simple drawings, this book gives readers lots to ponder and discuss about our desire to keep and cage pets.
The Eve Pownall Award was won by Bruce Pascoe for Young Dark Emu: A Truer History. The CBCA judges said this beautifully produced book presents a powerful argument debunking the notion of Terra Nullius which positioned Indigenous Australians as nomadic hunter gatherers. This younger readers' version of Dark Emu is an engaging discussion, accessible to primary school and young adult readers.
The CBCA Award for New Illustrator was won by Baby Business, illustrated and written by Jasmine Seymour, which tells the story of a smoking ceremony performed to welcome a baby to Country. The judges were particularly struck by Seymour's depiction of smoke and her use of line, texture and colour to represent culture.
Overall, the judges noted the increase in new creators appearing in many categories (170 in total) and the record number of unique entries (517), and said this augurs well for the future of Australian children's literature.
Usually awarded in August but postponed for the first time in its 75 year history, due to COVID-19 restrictions, the CBCA Book of the Year Awards were announced on Friday October 16 at noon AEDT in an online film event that can be viewed at the CBCA YouTube channel.
This announcement also launches CBCA Book Week, running from 17 to 23 October. In 2020 the theme is Curious Creatures, Wild Minds. The 2021 theme will be announced at the end of CBCA Book Week on Friday October 23.
For the full list of 2020 CBCA Book of the Year Award Winners and Honour books, please visit the CBCA website HERE.
* * * * *
View all news items