2018 Children's Book Week Merchandise is now available!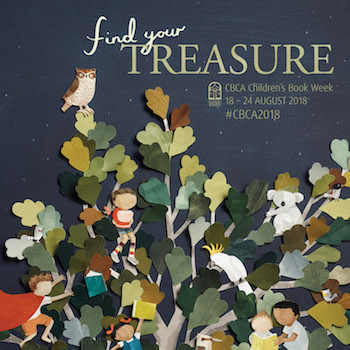 We are delighted to present our beautiful 2018 CBCA Children's Book Week Find Your Treasure merchandise, available now in our Merchandise eStore.
Since 1987 the CBCA has commissioned a Picture Book of the Year winner to create artwork inspired by that year's Book Week theme for posters and other promotional material such as stickers, bookmarks and badges. The sale of this merchandise helps to fund CBCA events and activities.
Melbourne-based children's author/illustrator Anna Walker is responsible for this year's CBCA Book Week theme poster. Her book Mr Huff won 2016 CBCA Early Childhood Book of the Year and was shortlisted for the 2016 Prime Minister's Literary Awards.
Inspired by the 2018 theme Find Your Treasure, Anna Walker's CBCA Book Week poster is a treasure hunt in itself, revealing charming details the longer you gaze at it.
When first told the theme, Anna said she imagined books hidden in a forest with creatures in leafy branches.
'I chose an autumnal colour palette so that the leafy branches merged into the evening and the children could be seen nestled among the branches,' she said.
Anna painted the leaves, animals and children with gouache then collaged them together. She said arranging the paper frogs, possums and kookaburras reminded her of playing with her doll's house as a child.
'The final artwork was photographed by Eve Wilson, with a backdrop of an inky sky to capture the subtle shadows cast by the moonlight on individual leaves. I hoped to create a scene in which children could immerse themselves and remember how lovely the spark of connection can be when you find a story to treasure.'
When creating the CBCA Book Week poster, Anna said she imagined school children making their own dioramas in the classroom and could see older children possibly animating their work with a stop-motion app.
Using Anna's poster, the CBCA has worked with a graphic designer to develop a range of CBCA Book Week merchandise which is available for purchase via our eStore: store@cbca.org.au.
2018 CBCA Children's Book Week will take place in schools, libraries and book stores all over Australia between August 18 and 24.
* * * * *
View all news items
---