We Love You, Magoo
Briony Stewart
| | |
| --- | --- |
| Publisher: | Penguin Random House Australia |
| ISBN: | 9781760896904 |
| Awards Year: | 2021 |
| Category: | Book of the Year: Early Childhood |
The publisher says...
Magoo has his own ideas about what a dog should do – in the kitchen, in the car, at dinnertime and bedtime! But there are so many rules! So many things a dog can't do.
But wait! Magoo, THIS is for you...
Silly dogoo, we do love you!
A perfect read-aloud picture book that captures Magoo's energy and emotion in every line. A classic in the making – joyous and playful, this will be read again and again. Pitched perfectly at the preschooler, just learning the rules who loves being the boss. Gorgeous illustrations and a rhyming text that's a delight to read out loud.
The author says...
I based my whole illustration style for the book on this spread of Magoo in the mud! The energetic lines and the texture helps Magoo to represent the unbridled joy and cheekiness of toddler readers, (and paired with the text, also allows them to delight in that age old thing of being able to tell someone else off for being a little bit naughty!)
I also enjoy this image of him in the bath - look at that little face! I wanted young readers to be able to both sympathise and giggle with Magoo as he learns the rules of the household. I think this also creates a gentle and funny parallel between the character and the parent-and-child readers of the story.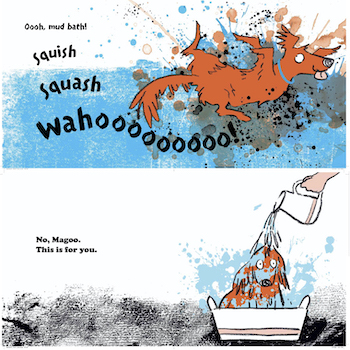 Click on the icon below to watch a video created by Briony Stewart where she shares the inspiration behind her book.

The CBCA judges say...
This simple rhyming text uses few words to convey the sense of playfulness and fun that begins on the front cover and carries through to the last page. The repetitive sentence structure leads readers from one of Magoo's misdemeanours to the next and encourages participation. The bright illustrations, making use of bold saturated colour, capture Magoo's loveable personality and his irrepressible antics, with the line and colour bringing his boundless energy to life. These carefully crafted illustrations show the world from Magoo's height perspective. The text and images balance well on the page, making this a high-quality picture book.
The Reading Time reviewers say...

Click here

to read the Reading Time review.
---